Ghlin Whelan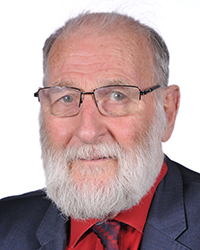 Party: Labour
Ward: Chalkwell
More information about this councillor
Contact information
Home address:
86 Adelaide Drive
Sittingbourne
Kent
ME10 1XU
Phone: 01795 475629
Email: ghlinwhelan@swale.gov.uk
Download Ghlin Whelan contact details as VCard
Committee appointments
Term of Office
Appointments to outside bodies
Additional Information
I moved to Sittingbourne from Malvern in Worcestershire when I married my wife Angela in 1973. We have two sons and a daughter.
After ten years with the Bowring Steampship Co. I qualified as a Master Mariner in 1974 and immediately took employment with the Medway Ports Authority at Sheerness and Rochester until 1992 when privatisation took place and I moved into Financial Services.
My main interest are gardening and visiting Great War and Second World War battlefields.
Chalkwell Ward, at the western end of the town centre, was created from the estern end of the old Grove ward and the northern part of Woodstock ward in the last reorganisation in 1992. Myself and Councillor Roger Truelove were then elected as Labour Councillors to represent Chalkwell ward and we have worked closely together ever since. (Roger Truelove is also your Kent County Councillor). A mixture of Victorian terraced housing, council estates built after WWII and modern semi-detached housing, the ward has the usual range of problems from a lack of investment dating back to the last century. Please see our latest Chalkwell Rose, which we deliver four times a year about ongoing issues. For example, the residents' parking scheme; closure of Johnson House; traffic control in Staplehurst Road; blocked drains in College Road, Hythe Road, Chalkwell Road; unruly behaviour, noise etc. Highways generally especially since being taken back "in-house" by KCC seems to be a real problem area that is getting worse rather than better. I am particularly interested in seeing some real progress being made on the Northern Relief Road. In the longer term we need greater investment to achieve major projects such as the Learning Hub and the regeneration of Sittingbourne town centre. Changes to the waste collection service is giving concern whilst at the same time ensuring a proper level of recycling is included.
There are no Parish Councils in Chalkwell ward although we do have a very active Residents' Association – FLAG in a portion of the Ward.
I am a member of the British Legion and the Kent Wildlife Trust. I can help you with any issues where the Borough Council has some responsibility (and some that are not!.
All Members have a Localism Grant, which is a funding opportunity designed to support small-scale, local community projects. For more information and to download the application form please see our members-localism-grants page.
Elections